Transforming component manufacturing
Additive Manufacturing enables us to design in a completely different way. By creating components layer by layer, we can quite literally think laterally when designing.  We can create parts from the inside out, incorporating integral features in places that traditional casting simply can't access.
Additive Manufacturing is revolutionising design and manufacture industrial components.
Take a look at our Worcester facility
Using '3D printing' we digitally cast parts, using fibre lasers to trace slices of CAD models in layers of powdered high-performance metal alloys to form solid objects. It's an incredibly complex yet very simple process through which we can turn raw, powdered materials into precise solutions.
This process is transformative not only because it is faster and more accurate than traditional casting methods, but also because it enables innovative new design solutions. As one of the premier metal additive service providers in the world we are able to support your printing needs from prototypes through to full scale serial production, in our state of the art Industrial additive manufacturing facility in Worcester UK.
Materials Solutions at a Glance
Materials Solutions opens U.S. Facility
Additive Manufacturing goes West
Materials Solutions expands its global network with its first additive manufacturing facility in the US. It is co-located with the Siemens Energy Innovation Center in Orlando, Florida, which offers a unique pairing of design with manufacturing, implementing robotics, rapid prototyping, scanning, digital tools and on-site metal additive manufacturing. The Siemens innovation center will focus on rapid problem solving supporting the company's energy businesses, while Materials Solutions will offer additive services to support the innovation center and selective customers in adjacent industries like aerospace and automotive.
The Innovation Center has extensive engineering and equipment capabilities especially in the field of inspection and metrology. These capabilities combined with the additive expertise of Materials Solutions provide a unique setting to support customers in development of holistic solutions for their additive needs.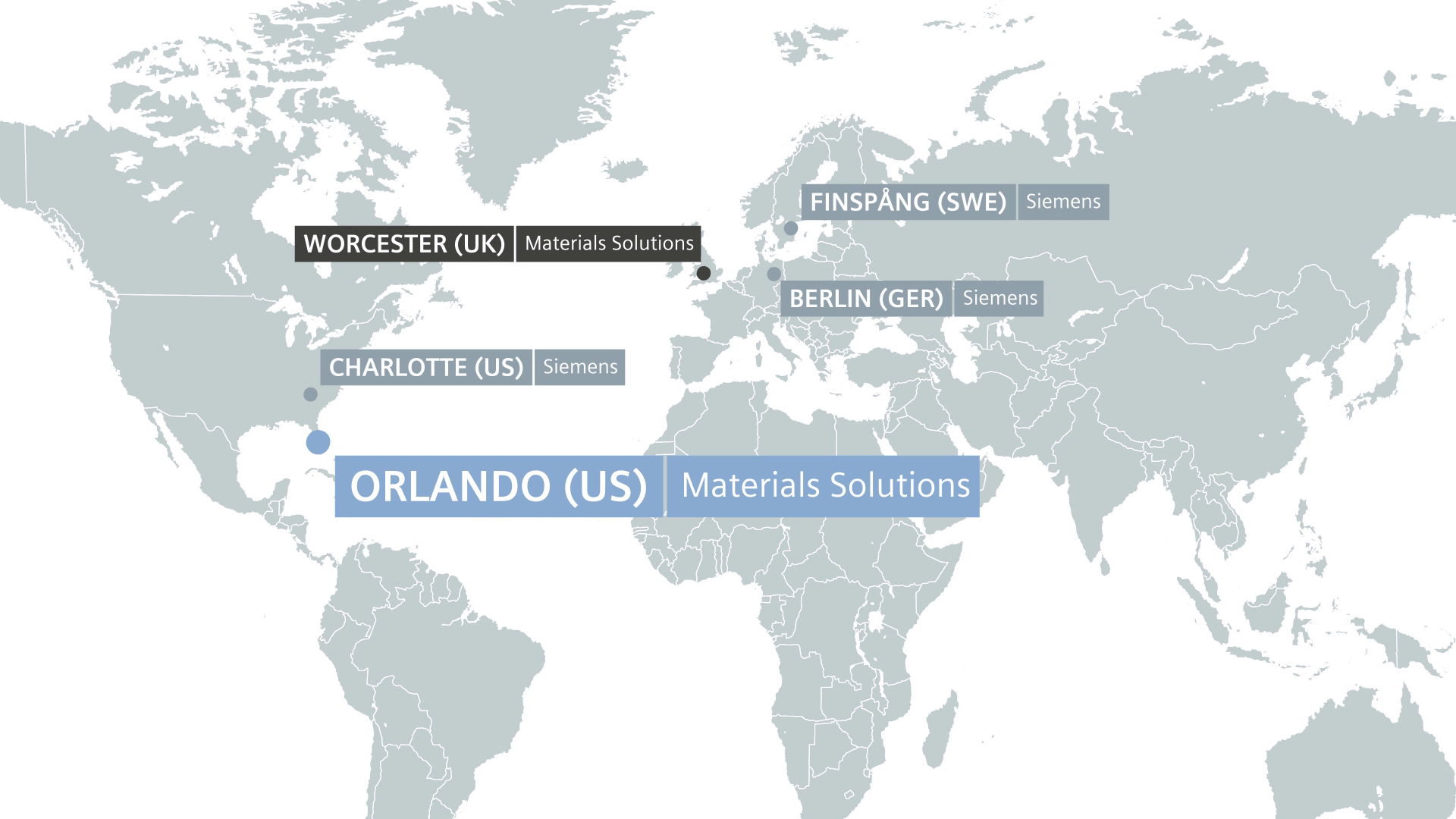 Read more about the Innovation Center in our Press Feature
Engineering and Manufacturing Services
Materials Solutions is a wholly owned subsidiary of Siemens Energy who have over a decade of experience as a lead industrial user of additive manufacturing. Siemens Energy experience as a user of additive has combined with the class leading service provider experience of Materials Solutions, to enable moving '3D printing' out of the laboratory and onto the factory floor. We solve complex printing engineering challenges with a strong focus on functional high-end prototypes and serial production applications for customers across the Power Generation, Aerospace, Automotive and Process and Tooling sectors.

For more than ten years, we have specialised in metal AM and are experts of engineers and metallurgists in powder bed fusion process and materials development. As a recognised world leader using the most advanced equipment, we create innovations that deliver performance and commercial benefits for world-leading brands.
We are one of the market leaders offering an integrated solution from software through automation to engineering and manufacturing of final applications. Our production capabilities comprise more than 25 printers globally with the capacity to expand our capabilities to 50 printers.
Making the impossible possible
We work with a broad range of customers in a diverse mix of industries.
Maximum availability for passenger aircraft
"Materials Solutions strongly supports our additive manufacturing programs with expert advice and high-quality components."
Toshiyuki KUMADA, General Manager Engineering & Development Department – Aerospace – SPP

Supporting the development of test parts
"We have worked closely with Materials Solutions to successfully develop test parts for use in our aerospace systems.  We are excited by the benefits which can be delivered through the use of Additive Manufacturing."
Tom While, Senior Mechanical Engineer, Ultra Electronics 
When old meets new: 100 year old car back on the road!
Materials Solutions experts brought the car to life again using reverse engineering enabled by Additive Manufacturing technologies. Reverse engineering is a process which allows the manufacture of parts for which drawings and 3D models no longer exist. We used a structured-light scanner, a machine which captures multiple images of a part before combining them to create a 3D model – accurate down to the micron scale. Using Additive Manufacturing we were subsequently able to directly create a near- finished part from the 3D model.
This method can be applied to almost any part and was utilized particularly in the remanufacture of two of the Ruston Car parts – a Steering Box and a Hood Imp. The 3D model can either be used directly for remanufacturing or repaired and improved using CAD software such as Siemens NX.

The Ruston car back on the road
Siemens Energy is a world leader in applied additive manufacturing
Our technology has been validated through in-house application for Siemens Energy Generation and Industrial Applications business. We have serialized additively manufactured parts for hot gas path application in Siemens Energy gas and steam turbines which have more than 1,500,000 hours engine experience. Over 50 different components are already qualified for commercial implementation on customer power plants worldwide. We use AM for the most advanced core components and legacy parts.
The award-winning gas turbine blade printed in Alloy 247 is just one of our use cases which received positive recognition by our customers and technical experts around the globe. Siemens Energy was awarded by the American Society for Mechanical Engineers (ASME) for its outstanding technological achievement with the first successfully 3D- printed and fully tested gas turbine blades in 2017.

Changing the future with award-winning Additive Manufacturing technology
Delivering customer value
Giving customer an integrated solution and the following services:
Materials and process development in a broad range of alloys
Engineering services
Manufacturing of test parts, fully functional prototypes and serial parts
Unique end-to-end capability from design within Siemens NX software to the component manufacturing
We offer a broad range of qualified materials and processes, training services, applied design for AM know-how, proven end-to-end process and quality control, 'right first time' via digital twin – powered by Siemens Digital Factory, and proven AM serial components.
Our production capabilities comprise more than 25 printers globally with different capabilities, e.g.:
M400-x machines: EOS M400-1, EOS M400-4,
M300 machines: EOS M300-4,
M2xx machines: EOS-M270, EOS-M280, EOS-M290 and
Renishaw: RenAM500Q.
The materials that can be processed are the following:
Ni superalloys: 247LC, Titanium
We are a leading company in processing Alloy 247LC additively
In738LC, Hastelloy X, C263, In625, In718, In718+, Haynes 230, C1023, MAR M002,
Ti 6/4, Ti6242

Imagine what we can achieve together
We created a world first for the power generation sector with the award-winning additively manufactured turbine blade of the SGT-400 gas turbine.
Thanks to the ingenuity of our engineers, we successfully reduced costs by 70%, cut lead times by 75% and improved turbine efficiency by 0.1%.

Imagine what we can achieve if we apply our expertise to your products.  Let's work together and make the impossible possible.
Modern Slavery
Siemens Energy fully supports the aims of the Modern Slavery Act 2015 (the "Act") and is committed to operating a zero tolerance approach to forced labour, slavery and human trafficking in any form, in any part of our business or supply chain. As part of the worldwide Siemens Energy group of companies, sustainable practices are firmly anchored in our corporate culture, based on our company values of caring, agile, respectful, and accountable. 
We apply globally-binding principles that require all employees and managers to behave in an ethical, law-abiding manner. We act responsibly to support economic, environmental and social progress. We will continue to apply a zero tolerance approach to forced labour, slavery and human trafficking in any form, in our business and supply chain. We take our responsibility towards the community very seriously.
Here you will find Siemens Energy's formal statutory statements on the prevention of slavery and human trafficking introduction for the last financial year, made pursuant to section 54 of the Act.